In parallel to the work of NoCo REDI (Northern Colorado Regional Economic Development Initiative) to identify targeted industry clusters for the region combining Larimer and Weld counties (Greeley Rising, July Issue), the City of Greeley's Economic Development team has been exploring the growth potential of Greeley's top industry sectors.
This work seeks to better understand the various ways our top industries contribute to the economy, including direct jobs as well as indirect jobs across the supply chain. Aside from employment impacts linked to the average wages paid in different industries, we can calculate total compensation, which feeds directly into local consumer spending power. Additionally, the projected impacts of business sales and output growth is a measure that feeds into business profits and tax generation. It's important to take a 360-degree view when forecasting future industry impacts to ensure that economic development is targeting industries that create strong returns for the community.
Direct Impact Forecast
Agriculture & Food is projected to contribute an additional 787 direct local jobs contributing $123.2 million in direct wages annually by 2030, the 6th highest for direct impact. The average wage in Agriculture & Food at $47,742 to $50,612 tracks just below the local average wage of $53,683.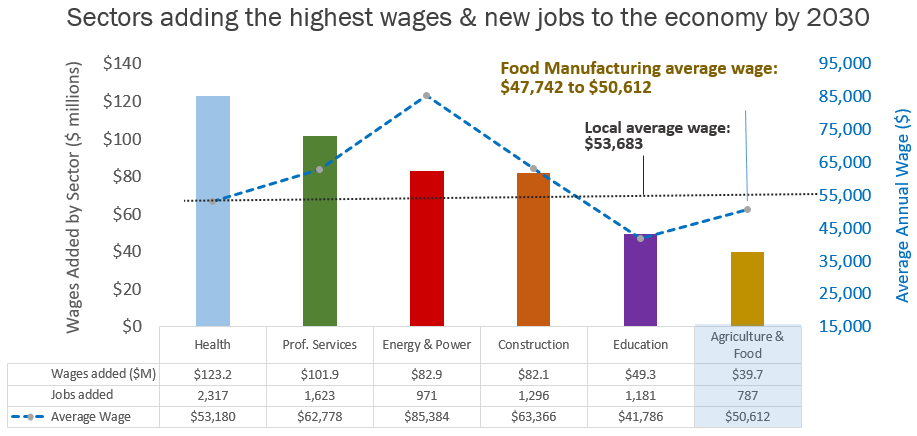 Total Impact Forecast
Agriculture & Food is projected to contribute an additional 1,631 jobs annually in the Greeley metro area by 2030, the 5th highest. With moderate average wages, the industry is projected to contribute an additional $81 million in total compensation annually, the 5th highest across industries. However, Agriculture & Food is projected to add $576 million annually in total sales and output, which rates as the 2nd highest of industry sectors.